I am soo excited for this readathon. I am soo ready to knock out some good contemporaries. I am going to be super ambitious and try and read 7 books. HAHA doubt that will actually happen but I'm going to try my hardest!! Wish me luck!!
The challenges are:
1. Read the most recent contemporary book you purchased/acquired
2. Read book with blurple (blue or purple) on the cover
3. Read a diverse contemporary (keeping in mind that it is Black History Month!)
4. Read a dark/emotional/taboo/hard-hitting contemporary
5. Read a contemporary that you meant to read in 2018 but didn't
6. Read a contemporary in a non-traditional format
7. Read a contemporary with some sort of picture on the spine
The Simple Wild
by K.A. Tucker | This book will complete the recently acquired book challenge. This book is about a woman that learns that her estranged father who she hasn't spoken to in almost 10 years has cancer. She decides to go to Alaska to spend time with her father before it's too late. This book is also on my Top 9 to Read in 2019, so this will knock out that challenge, as well.
One True Loves
by Taylor Jenkins Reid | This book will complete the blurple challenge. I recently read The Seven Husbands of Evelyn Hugo and fell in love with that book, so I've been wanting to read more of Taylor Jenkins Reid. This book is about a woman's husband goes missing on a helicopter going over the Pacific ocean on their first wedding anniversary. Years later she is engaged to another man and then she finds out her husband is found and she must choose who she wants to be with. Sounds amazing!
Watch Us Rise
by Renee Watson & Ellen Hagan | This book will complete the diverse contemporary challenge. This book is about two girls are fed up with the way women are treated at their high school and they start a Women's Rights Club. This sounds like a great diverse and feminist book.
On the Island
by Tracey Garvis Graves | This book will complete the taboo challenge. I have heard nothing but great things about this book. It is about a teacher that is offered a job tutoring her student at his family's summer rental in the Maldives. On the way there their pilot suffers a heart attack and their plane goes down. Her and her student make it to an island where they try to survive for years and during that time they start to fall in love. I love taboo books and I'm soo excited for this one!
Next Year in Havana
by Chanel Cleeton | This book will complete the book I meant to read in 2018 challenge. After the death of her beloved grandmother, a Cuban-American woman travels to Havana, where she discovers the roots of her identity and unearths a family secret hidden since the revolution. This has a dual timeline in Havana 1958 and Miami 2017. I've heard this is an amazing book!!
What He Doesn't Know (What He Doesn't Know #1)
by Kandi Steiner | This book will complete the non-traditional format challenge. I'll be reading this on my Kindle. I read A Love Letter to Whiskey and fell in love with that book and I knew I wanted to read more from this author! This book is about a woman who is in a drowning marriage and then a man who she use to know 14 years ago comes back into her life. She must chose what she wants to do with her life. Sounds super interesting!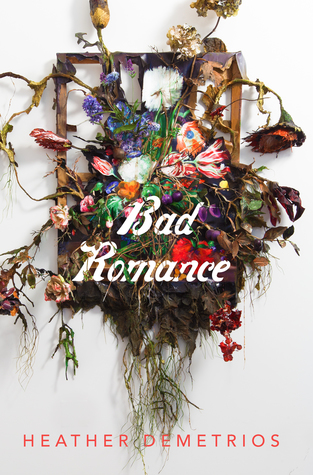 Bad Romance
by Heather Demetrios | This book will complete a picture on the spine challenge. This is about a girl who is in a abusive and emotional relationship. This book has been on my shelves for awhile and I need to get to it!
Are you participating in the ContemporaryAThon? If so, what are you reading? Let me know in the comments!